The Delete option can be used to delete selected files from the current archive. The files can be selected by clicking on them . When you select the Delete option, the Delete confirmation window is displayed. Click on OK to delete the selected file or Cancel if you do not want to delete the selected file.



Figure: File Deletion Confirmation
In addition to deleting the file from the Action Menu and by highlighting and right clicking on the file to select the file to be deleted, you can also delete the file by simply highlighting the file and hitting the Delete button on your keyboard. This is in addition to the standard AnyZip keyboard shortcut for delete.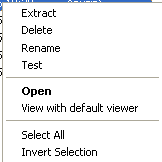 Figure: Deletion Option
AnyZip also allows you to delete more than one file from within an archive through a single operation. In order to be able to do so, please select multiple files in the archive with the Ctrl key on your keyboard pressed down. Select the Delete option to delete the selected files.
The Delete option within AnyZip cannot be undone; therefore, it is important to ensure that there is valid reason for deleting and file from within an archive, or that adequate backup exists of the file being deleted. Please note also that the Delete option can only be selected for the ZIP / TAR / JAR and GZIP file formats.