AnyZip has a unique feature that allows you to create an archive file spanning across more than one disk or storage unit. This feature is very helpful while creating an archive when the size of the files to be compressed is larger than would fit on a single disk. Using this feature makes it easy to create multi-disk archives without your having to manually determine which files to include on one disk. AnyZip addresses this requirement by limiting the size of each archive to a user-defined size.
A multi-volume archive can either be created based on a user-defined size or using AnyZip's auto-detect feature.
User-defined Multi-Volume archive
In the example below, we are attempting to create an archive from a list of files. In addition to specifying the name and location of the file, the we have specified in this case using the Split to Volumes option that the size of the resultant archive files should not exceed 500 KB.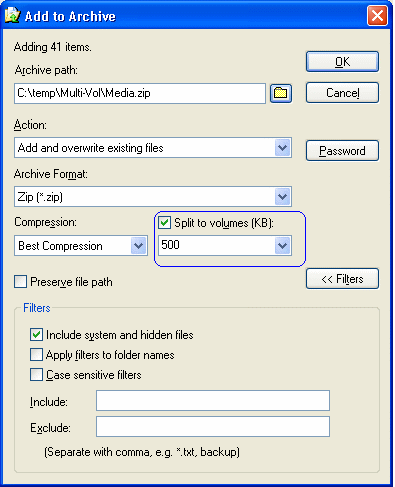 Figure: Add to Archive window with user-defined file size
Based on these parameters, AnyZip has created archive files as follows: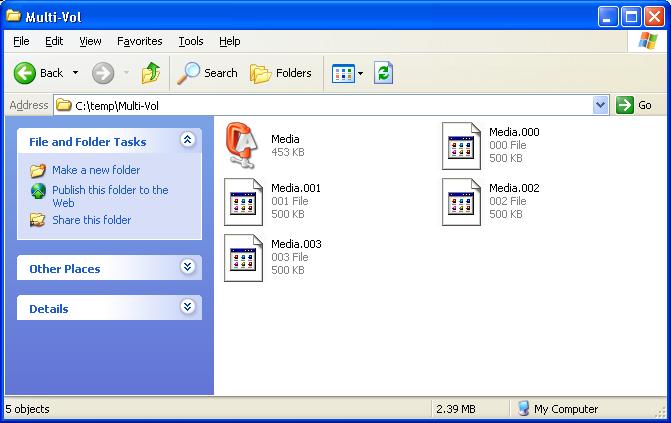 Figure: Result of an archive created based on user-defined size
As the total size of the files selected for adding to the archive is 2.99 MB, AnyZip has created an archive consisting of five files of 500 KB each and a sixth one of 453 KB. This makes it easier to now copy these files into a storage disk such as a floppy disk.
Further, AnyZip has also marked the files with a 00n extension, numbered from 000 to 004. This is helpful while extracting files from floppies as AnyZip prompts users to insert floppies into the disk drive after completing extraction after reading each piece of the archive. The prompt that is displayed contains the name of the file along with its extension. In order to carry out the extraction the user has to select the main archive file i.e. the file titled Media.Zip in the above list.
Auto-Detect based on disk drive
When you select the Auto-Detect option for creating a multi-volume archive, AnyZip detects the right size of the archive based on the disk drive in your computer. In case you have a floppy disk drive which takes only 1.44 MB floppies AnyZip will create an archive in such a way that the size of each component of the archive file is no more than 1.44 MB in size. In order to use this feature, select the Auto-Detect option while creating an archive as shown below:



Figure: Auto-Detect option for Split to Volumes field
AnyZip will create the archive based on the capacity of your disk drive in the same manner as described in the earlier section. The same rules also apply for extracting files from within such an archive.