AnyZip is not free, which means that you need to register and pay a registration fee if you want to continue to use it after the 30-day evaluation period. If you do not register after 30 days, then AnyZip will function as normal, except that you will not be able to transfer any files.
Once you have registered, you will receive a registration key that will enable unlimited use of AnyZip. You may use this key in exactly one copy of AnyZip, installed on a single computer. More than one person is allowed to use it, given that no more than one person uses it at the same time. If more than one person needs to use AnyZip at the same time, you have to register a copy for each of them. Click here for more licensing information. For information on how to register and various license options please go to http://www.tbsoftinc.com/purchase.php.
Click on this option to enter the Registration Key for AnyZip that was provided when you bought the software from us. Enter the Username and Registration Key as provided by AnyZip into the relevant boxes in the AnyZip Registration Window and click on OK to complete the registration.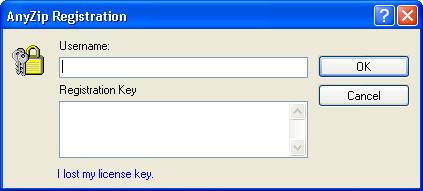 Figure: AnyZip Registration Window
In case you have lost the license key provided by AnyZip, please click on the I lost my license key link to request for a new one. This will take you to the AnyZip website where you can request for a new registration key by providing the data related to your original purchase of AnyZip.