The Password option allows the user to set a password to the current archive, to restrict the access to the archive.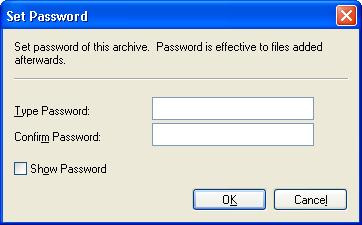 Figure: Password Entry Window
For security, AnyZip requires you to enter the password twice, once each in the Type Password and Confirm Password text boxes. This verification is intended to make sure that the password has been correctly stored by AnyZip.
The Show Password check box allows you to view the password prior to re-entering it into the Confirm Password box.
In addition to setting the password for a new archive file, this option can also be used to open password protected archive files.